Folks, I've been dating for roughly...16 years now. And I think I'm getting close to figuring out my mystery man's identity. My first date was with a guy named Trey, and we went to see Wayne's World. Ohhh yeah. And in the 16 years since then, I think I've done a good job of ruling out the bad qualities and sorting out the good. Bit by bit, I'm narrowing in on this elusive man of my dreams. Tonight, I had an epiphany that takes me one step closer, and I'd like to share this bit of sacred knowledge with you.
There are some things I know already about my P.I.C. (get it? And I'm pick-ing him...I'm so lame). Here's a sampling to get you up to speed. In high school, I learned that my guy...
Knows Nirvana could beat Pearl Jam in a battle of the bands to the death! (this became null and void after Kurt Cobain took himself out of contention in 1994 and my coming to grips with the fact that I am not nor ever will be a grunge chick)
Doesn't smoke pot (my high school boyfriend did, and I wish I learned my lesson then because that would have saved my living room from being burned down)
Likes cats…which really translates to likes animals because evidently I'm allergic to cats
Is taller than me (a quality not as tough to find now, but at 14 it made for some awkward school dances)
Has his own car (this was crucial for my social life at 16)
Likes football (some things never change)
Drives a truck (some things do)
Makes me mix tapes
Buys me one of those roses for Homecoming that the Key Club delivers during 3rd period
As I grew up and matured, my list became more complex. Now I know that my guy...
Makes cheese omelets for me for breakfast (though I'm still a big fan of the mix tape, I'd prefer to have my coffee first)
Tolerates my dog who is really a cat that gets very excited when you come home
Likes football and beer
Can arch his eyebrows - how cute is that?!?
Knows how to work my lady parts (less important when I was younger cuz I was such a sweet little angel but hella important now)
Loves to travel and have all sorts of adventures
Remembers to buy me something for gift-giving holidays (surprisingly tough to find)
Does man things like drilling holes into walls and fixing shit I'm too lazy and impatient to learn how to fix
Grabs my ass in public (I love that. And yes, a quick smack will do.)

Takes me to Graceland because he loves me, and as wrong as it is, I've never been
Always does the f-ing dishes after I slave over a hot stove for his slack ass



So you get the drift. I'm getting close, I can feel it!
I have high ambitions for this hunky man I've yet to meet, and I'm pretty sure he's also smart and successful. And, of course, I'll be there to help him realize his full potential. This I've always known. But tonight, I know what my P.I.C. does for a living. He is a writer for either The Daily Show with John Stewart or The Colbert Report. Those shows are so clever and funny, my soulmate just has to work for one of them. He'd be perfect at it. Yet. I'm definitely making a dent in this lifelong mystery. Any day now...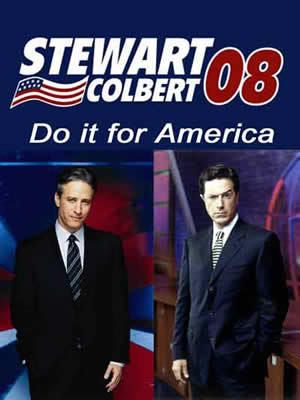 * Alright. So maybe my family is right, and I am too picky. My partner in crime at least watches those shows and wishes he worked for them. Geez. Lowering my standards already, and I'm not even finished with this post.