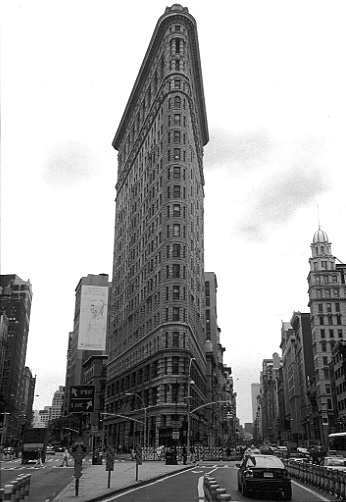 I don't know what it is, but lately, I've really been missing the Big Apple. I think because I was supposed to visit my friend there for Halloween, and she had to bail on me last week. Since then, New York's just been on my mind.
Every once in awhile, someone asks me where I'm going to go after I finish school. I always tell them I don't know, that I'll go anywhere, because that's true and who knows where I'll find a job. And that's the easy thing to say. But the truth is – I do think about it. And actually, as part of my new "I just want to be honest all the time" thing I've been testing out, I did give someone the real answer Saturday night.
Sometimes I imagine living in a small beach town somewhere on the East Coast. Maybe North Carolina because I like it there – the beach and the mountains, who can beat it? Maybe Virginia or on the water in Maryland somewhere. Savannah is heaven. But other times, I think I'd move back to DC or New York in a heartbeat. There's something about New York that really sticks with you. It becomes a part of you. It's a person, really, and it's easy to get attached to a person as great as New York. It has so much energy, so much possibility. A lot of adventure and magic. I even love the dirt. It's gritty and real. Unapologetic.
Here are a few reasons I miss living in the greatest city on earth…
Gristedes. Even the tiny carts.

Loud city birds outside my window at all hours of the day and night. I love the loud of the city.

People of all shapes, sizes, colors and backgrounds coexisting side by side.
$19.99 mani/pedi Tuesdays.
Art is all around you – visual art, the theater, amazing music venues – even the musicians in the Subway are better than you'd find in middle America.
There's a good reason New York is called "The City That Never Sleeps." Because it doesn't. There's always something going on and everything's open late. My kind of town.

Pizza by the slice 24 hours a day.

Mmm pizza perfection – John's and, my personal love, Patsy's.
Central Park – my bridge (yes, it's mine), Poets' Walk and the ducks. I love the ducks.
I love that you can take a walk in the middle of the night.

I miss that a lot.

You can't even do that in DC because the District has a bedtime.
I love old, misshapen apartments. One of my apartments slanted downward slightly. I had notepads propping up my furniture.

Buying coffee and a croissant on the corner.
Being in the center of the universe.

When your feet are on a sidewalk in Manhattan, you're standing on the pulse of the world's heartbeat.
I love that you can find furniture and shit to decorate your apartment just hanging out on the sidewalk waiting for someone to pick it up and take it home. My old roommate still uses the kitchen table and chairs I found on 28th Street between 7th and 8th.

Taxis!

I freaking love New York cabs.

And the cab drivers really are the best in the world. When I'm drunk, I always tell them and I think they like that.

The Queensburo Bridge.
7th and 10th.

You are a part of my heart.
I don't care if it is cliché, Chumley's is the best bar.
Lazy Sundays walking through galleries in SoHo or Chelsea.
Chocolate popcorn!

The only reason to go to Times Square besides the theaters, of course.
Yankees games.

Aw it'll be so different in the new stadium.

Boo.
The Chelsea Hotel.
New York City makes me feel more alive by just being in it.
You can spend a very lot or a very little on everything. We got Gucci, and we got Century 21. We got Cipriani, and we got Ray's.
Duane Reade.
I kinda do want weird city kids that ride public transportation, go to museums and know how to navigate around homeless people and crackheads.

You can have anything you want delivered to your door.

Sushi, hamburgers, DVDs from the video store, even KFC delivers in the Big Apple (trust me – I've tried it).
I miss the subway.

There was a guy in the 77th Street station (6 train) who always sang "Ain't No Sunshine When She's Gone."

It was beautiful.
Most apartments have window AC units, but it can get pretty hot and humid in the city…which makes for some sticky, sweaty nights.

Hot.
I'm not the only one who loves New York. My favorite songs about my favorite city - "Heart in New York" (Paul Simon), "New York State of Mind" (Billy Joel...come on now), "New York, New York" (Ryan Adams), "The Only Living Boy in New York" (Simon & Garfunkel), "Marching Bands of Manhattan" (Death Cab for Cutie), "Hotel Chelsea Nights" (Ryan Adams), "Chelsea Morning" (Joni Mitchell) and "I Guess the Lord Must Be in New York City" (Harry Nilsson).

Knowing New York is like being part of a club that the city just welcomes you into.

You are a part of something because you are a part of that city.

And no matter what happens, the city will always be there to pick you up and keep you moving on. I remember the city after 9/11. Everyone looked you in the eye. Everyone hurt. Everyone cared. Because the city hurt and the city cared. Living in New York is like being part of a big, loud, honest, passionate family.